Create API Key:
Video Walkthrough for Setting up API:
Screenshot Walkthrough for Setting up API:
1. Create Bybit Account
2. Create API Key
Note, you must enable Two Factor Auth before you can create an API key: https://learn.bybit.com/bybit-guide/protect-your-bybit-account/#tip-2-turn-on-2fa
Click on "Create New Key"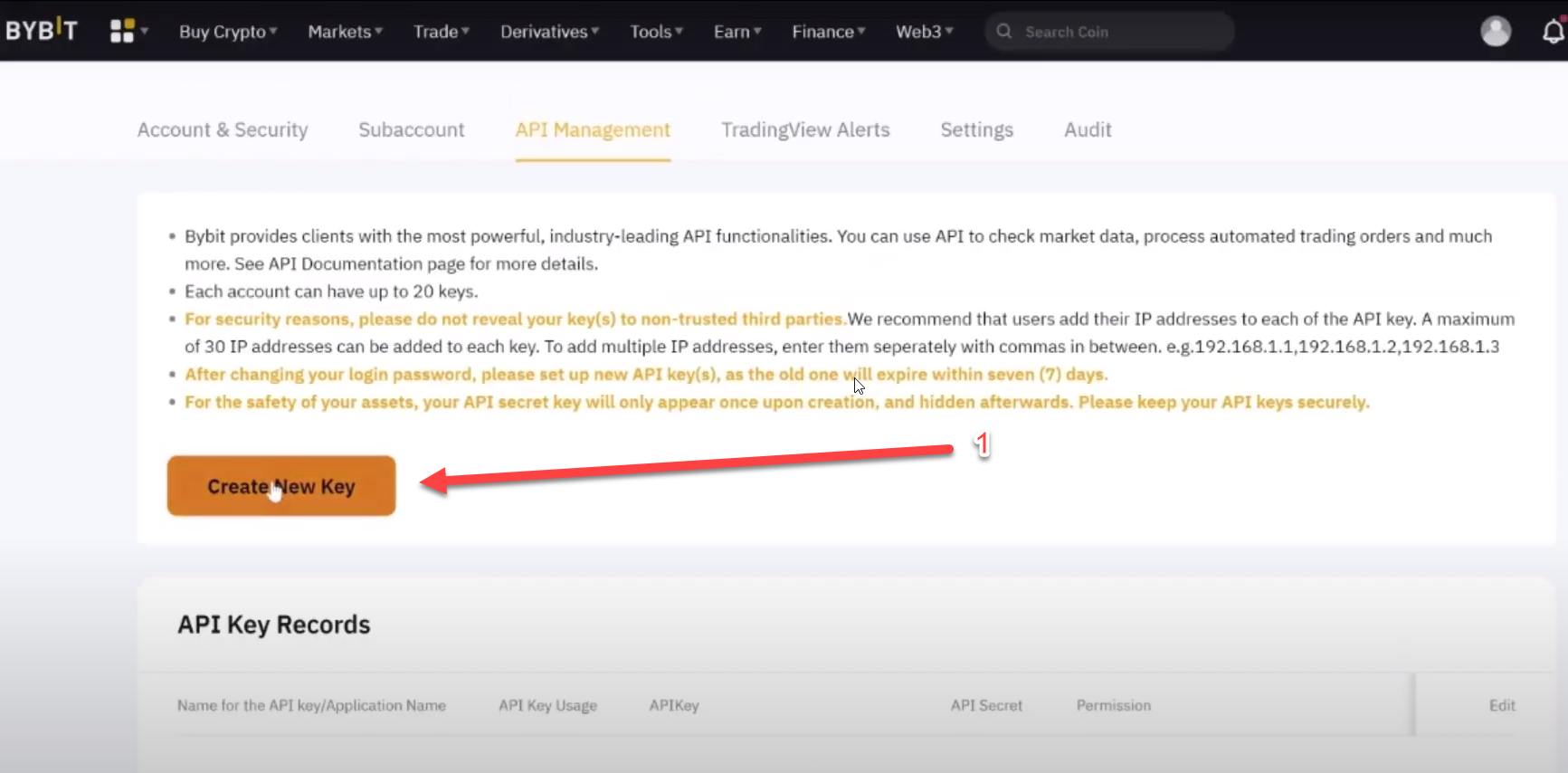 API Key Settings:
Select "API Transaction".
Name the API key according to your preference.
Select "Read-Write".
Select "Only IPs with permissions granted are allowed to access the OpenAPI".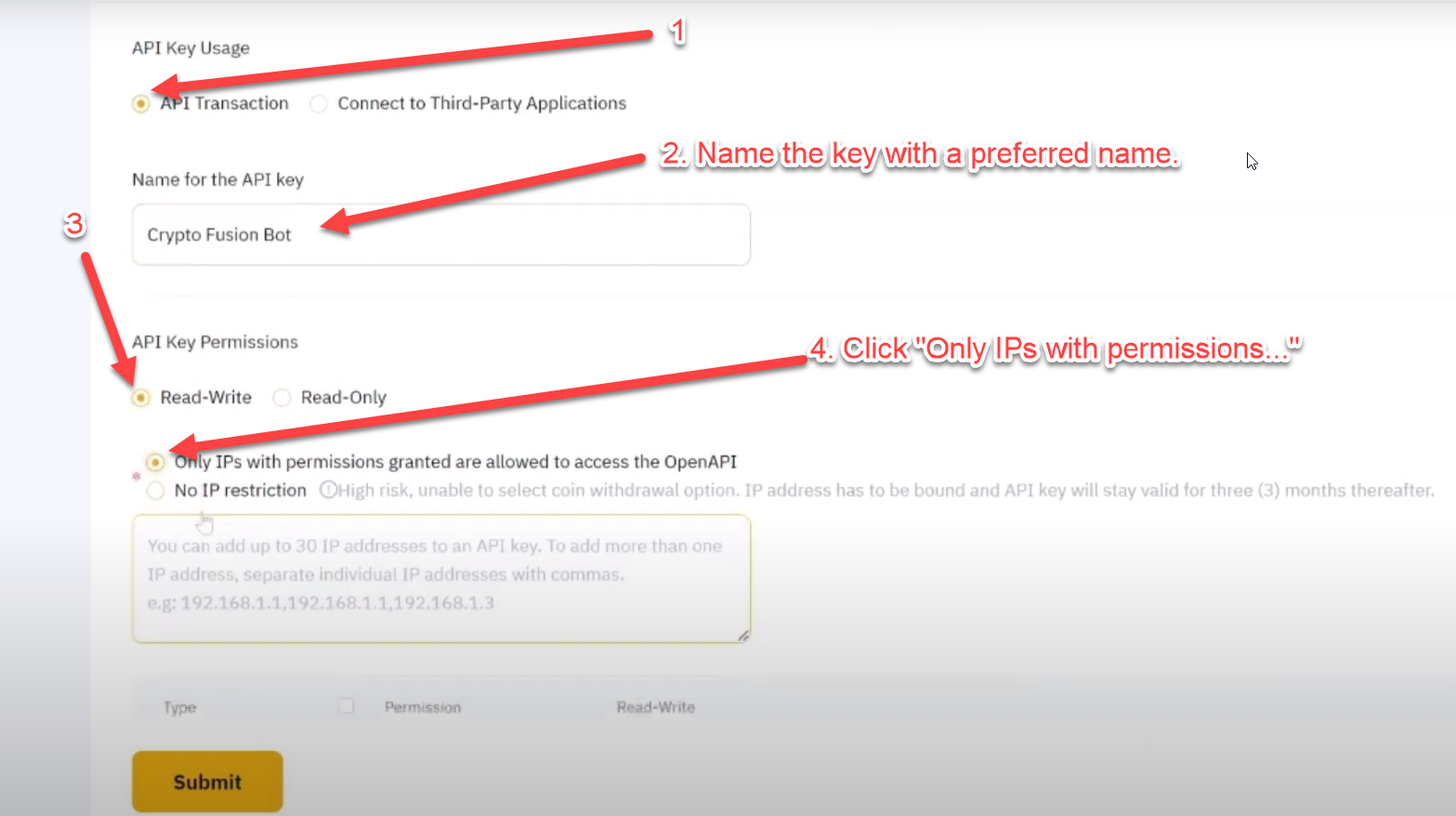 3. Copy/Paste IP Addresses
Copy the 30 IP addresses below. Be sure to copy them all with no spaces before or after the block of IPs.
IP Addresses
13.214.95.141,13.215.107.189,13.215.107.89,13.215.146.46,13.215.218.124,13.215.84.195,13.229.159.28,13.251.62.39,13.251.90.175,18.136.181.160,18.136.222.87,18.136.5.68,18.136.94.32,18.141.59.42,18.142.135.156,18.142.191.94,18.142.219.92,18.142.72.28,18.143.54.31,18.143.86.64,52.220.160.233,52.77.44.115,54.151.135.129,54.151.172.3,54.169.191.163,54.179.124.14,54.254.124.13,54.255.115.164,54.255.121.192,13.213.94.148

Paste the IP addresses into the text box. Click the "Orders" and "Positions" boxes and click "Submit".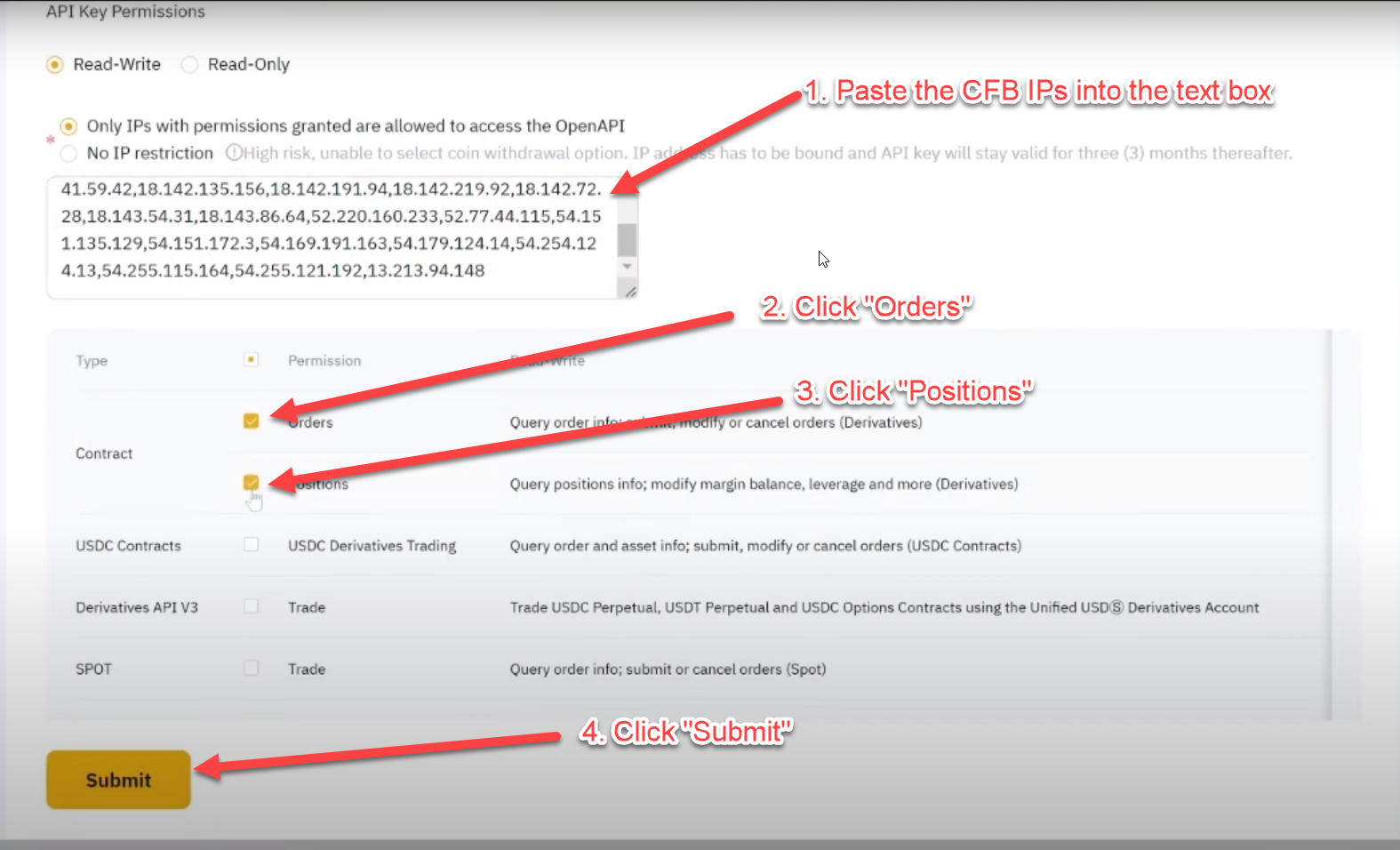 4. Save API Key
Copy and then save the "API Key" and "API Secret" in a personal secure file. The "API Secret" will not be displayed again. After ensuring the keys are saved, click "Understood".

Login into the Crypto Fusion Bot website https://portal.cryptofusionbot.com/

Navigate to the "API Keys" section located in the left bar Menu

Click on the "+" button in the right side corner to add a new API Key
Add your new API keys to your Crypto Fusion Bot account
Enter a name for the API Key, and paste the "API Key" and "API Secret"
Set the type to either "LIVE" or "TESTNET", depending on what type of API key you created.
Click "Save"